You get a little more for your gambling dollars at Rideau Carleton Raceway.
Sure, you can stand in front of one of the 1200 or so slot machines, feeding in your tokens in an attempt to win the big jackpot. Or, you can get a little entertainment with your gambling dollars, and enjoy some harness racing.
Harness Racing
If you are yet a part of the widespread harness racing fraternity, read on. You might get hooked!
Drivers in the harness races (note – they are not jockeys, they are drivers!) sit behind the horse on a two wheeled cart called a sulky. The wheels are fairly lightweight as is the cart, all towards reducing weight for more speed.
The object of the race is for a driver to manouever their sulky past all drivers to be first across the finish line, all the while keeping the horse either pacing or trotting in the appropriate cadence. Horses that break pace must be moved outside of the race pack, until the horse can be brought back into the correct footwork cadence at which point they rejoin the race.
Sometimes the horses are required to trot instead of pace. Pacing horses move their both left legs together, then both right and so on. Pacers move their opposite legs; right front and left rear then left front and right rear. Pacing is considered the faster of the two forms and is the most popular in North America.
At Rideau Carleton Raceway you can enjoy your harness racing fix year round, with race post time at 6:30 pm every Thursday and Sunday evenings.
Slot Machines at Rideau Carleton Raceway
As mentioned earlier, there are more than 1200 slot machines, overseen by Ontario Lottery and Gaming, at RCR.
To entice you to visit, the slots are accessible (open for gambling) 24 hours a day, seven days every week. Slot machine games include:
Blazing 7's
10 Time Pay
Wheels of Fortune and others. They also have electronic tables enabling guests to play black jack, baccarat and roulette.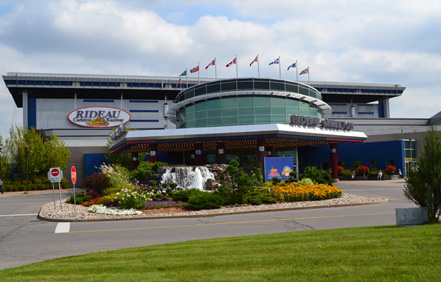 Age of Majority
Wtih some special event functions, all guests to the Rideau Carleton Raceway dining room must be 19 years of age or older and in possession of valid, government issued, photo identification; guests 19 – 25 years old will be required to present a second piece of i.d. with a signature on it.
Directions to Rideau Carleton Raceway from Parliament Hill (Downtown)
From Parliament Hill head southbound on Bank Street until you reach Laurier Street and make a right turn.
Proceed along Laurier to Bronson Avenue. Make a left turn onto Bronson and stay on Bronson going south past Heron Road where it turns into the Airport Parkway.
Continue along the Airport Parkway until you reach Hunt Club Road. Exit there, and take Hunt Club Road east bound to Bank Street.
Turn right on Bank Street and travel southbound to Albion Road. Turn right on Albion Road and continue along until you reach 4837 Albion Road, which will be on the left hand side.
 Contact Info
4837 Albion Road,
Ottawa , ON
K1X 1A3,
T: (613) 822-2211
W: www.rcr.net